Category Archives:
Past Events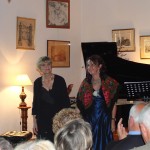 Concert at the mansion with Helen Vaumadeuc Porcher, and pianist Christine Joucla, Soprano.
The public and friends Vaumadeuc were unanimous as to the quality of this concert. Programming of Carol O'Neill was, as always, a success thanks to the excellence of her intuition. hélène Porcher and Christine Joucla have interpreted Chopin, Grieg, Tchaikovsky, Rachmaninov, Rimsky-Korsakov, Mussorgsky, Alabiev
Christine Joucla: Soprano After studying violin and singing at the Conservatory of Rennes, Christine Joucla graduated Singing at the Conservatory of Bayonne in 1984 and forms with Agnes Brosset Conservatory of Vannes Pontivy where she obtained a degree in Vocal Technique as Coloratura in 1995. Along with a career English teacher, she given several recitals in the area (including the recital « Coloratura » in 2000 and the show « Coloratura, Love and Dreams » in 2010), and sang in various choirs and opera. Helen Porcher: Piano After studying and obtaining his prize in piano at CNR Versailles,
Hélène Porcher : studied Harmony and Scripture in Paris. She worked with Jean-Claude Pennetier for preparation of concerts with Elizabeth Sombart in Switzerland interpretation as well as Maurice Martenot in pedagogy. it gave many concerts and recitals in France and abroad and lives Now in Britain for four years where she teaches piano and continues to perform recitals in concert with Grieg / Chopin 2011.